A thieves' aid group's grocery store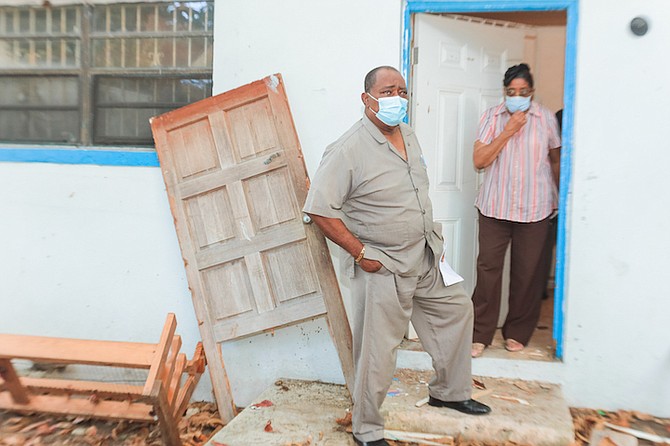 THE REV CB Moss at the storage building broken into by thieves. Photo: Donavan McIntosh/Gallery Staff
By KHRISNA RUSSELL
Chief journalist of the tribune
WITH more and more people turning to the Feeding Bain and Grants Town project for help as the Christmas holidays approach, Reverend CB Moss said his outreach efforts have taken a hit as thieves stole food and equipment from a storage facility.
Reverend Moss said he now faces a $10,000 bill to cover the cost of damage, stolen items and food the culprits got away with.
Thieves damaged the door of the August Street surplus warehouse and stole a large chest freezer filled with meat, two microwaves, a new ceiling fan and a large quantity of liquid eggs, among other items.
Reverend Moss said the thieves also tried to carry a pedestal freezer but when they couldn't get it through the door it was left open, spoiling all the contents inside .
The pastor of Mt Olive Baptist Church, a longtime downtown community leader, said the break-in was "traumatic".
'We don't know the exact day (the incident happened) but within the last few days it has taken place,' Reverend Moss, president of the Bain and Grants Town Advancement Association, told The Tribune.
"We went there yesterday (Monday). It's a building that houses some of our surplus food not far from the church and we found the back door kicked in and the Feeding Bain and Grants Town food depot was there.
"They stole a very large chest freezer that was filled with meat – chicken, ham and that sort of thing – and they also stole a commercial microwave and they stole a smaller, more nature-like microwave. domesticated. A brand new ceiling fan still in the box and a significant amount of liquid eggs that we used for our breakfast were also stolen.
"The police are tracking him down, but you know, once you don't catch them in the act, it's almost impossible.
"We therefore want to alert the public in case they see any of these items. We also want to appeal for replacement as the freezer and microwave were donated to us by the Deltec Banking Corporation in October 2020 and we we don't have the money to replace it.
"It's been a traumatic experience, but we're going to move on," he said.
Reverend Moss said he was unsure of the motive for this unfortunate act.
"I don't know what motive to put behind this to tell the truth. I know that these are not the people who need themselves because if they were, they would come and we would give to them. I think they see it as an opportunity to sell and make money or something or addicted people. You know you can't predict what they're going to do.
Despite the incident, he said it wouldn't be a deterrent to the work the program intends to do this holiday season.
"We're not devastated because we realize it's part of the game. People steal for a variety of reasons. It set us back, but thank goodness people have been generous and we hope the public will be generous in this case to help us replace the things that were stolen.
"We are increasing the frequency of our food distributions because the holidays are approaching so it is delaying us but we think it will be fine because since March last year when we started the Feeding Bain Town project we have been in able to meet the demands placed on us, not only by the residents of Bain and Grants Town, but all of New Providence.
"Then God will provide. We believe in it," he said.
He said the outreach center planned to serve lunch today despite the setback.
Anyone with information is asked to contact the South Street Police Station at 356-5723.