Food service manager named county classified school employee of the year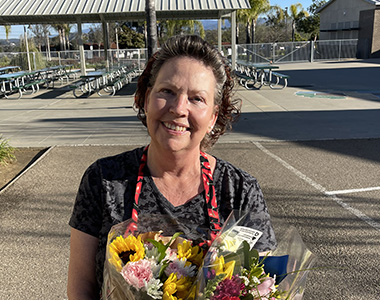 A Ramona Unified School District food service worker was recently named San Diego County Classified School Employee of the Year.
Gayla Hager, food service manager at Hanson Elementary in Ramona, is now moving to the state-level program for possible recognition by the California Department of Education.
The San Diego County Office of Education runs the countywide Ranked Schools Employee of the Year program to recognize the work these essential employees do every day.
"We celebrate Gayla and all of her fellow nominees, who work tirelessly on behalf of the students of San Diego County," said San Diego County Schools Superintendent Dr. Paul Gothold. "They are truly the hidden heroes of education, playing a key role in the day-to-day functions of schools and districts.
With 18 years of experience in school catering, including 15 years as a chef, Hager has perfected the balance between regulatory compliance and happy, well-nourished students, colleagues said. The Hanson Elementary School kitchen serves 100 breakfasts and 350 lunches on a typical school day, and Hager is there with a smile and a friendly welcome for each of his students.
Manager Chris Gunnett said in his letter of appointment: 'I don't have an employee who works as hard or is as dedicated as Gayla. In my 10 years working with Gayla, she has always shown an incredible ability to work with students, provide them with a warm environment, while holding herself to high expectations every day.
Congratulations to all of the District Employees of the Year who were nominated at the county level!
Derek Demeduk, Cajon Valley Union School District, systems analyst/programmer
Terri Freepartner, Coronado Unified School District, Administrative Assistant II
Tracy Reynolds, Escondido Union High School District, Senior Network Support Technician
Gregory Nava, Miller Elementary, Escondido Union School District, SPED II paraeducator
Michelle Boardingham King, Grossmont Union High School District, Personnel Specialist II (Confidential)
Vedrana Carew, Lindsay Community School, JCCS, ELD Assistant
Heather Spruell, La Mesa – Spring Valley School District, Extended School Services Manager
Jerriel Gallman, Lemon Grove Academy Middle School, Campus Security Assistant
Veronica Garcia, Ira Harbison School, National School District, Administrative Assistant – School
Carlos Rozo, Cesar Chavez Middle School, Oceanside Unified School District, Senior Day Custodian
Andrea Schmidt, Poway Unified School District, School Bus Driver
Gayla Hager, Hanson Elementary School, Ramona Unified School District, Food Services Manager
Cathay Shroyer, San Dieguito Union School District, Administrative Assistant II
Ivy Keim, San Marcos Unified School District, Occupational Therapist
Isabella Savala, San Ysidro Middle School, San Ysidro School District, Health Aide
Bridget Claiborne, Santee School District, Assistant Accountant III
Susan Callagy, Solana Pacific School, Solana Beach School District, Teaching Assistant I
Rosie Figueroa, Monte Vista Elementary, Vista Unified School District, School Secretary