Harps Food Store opens new location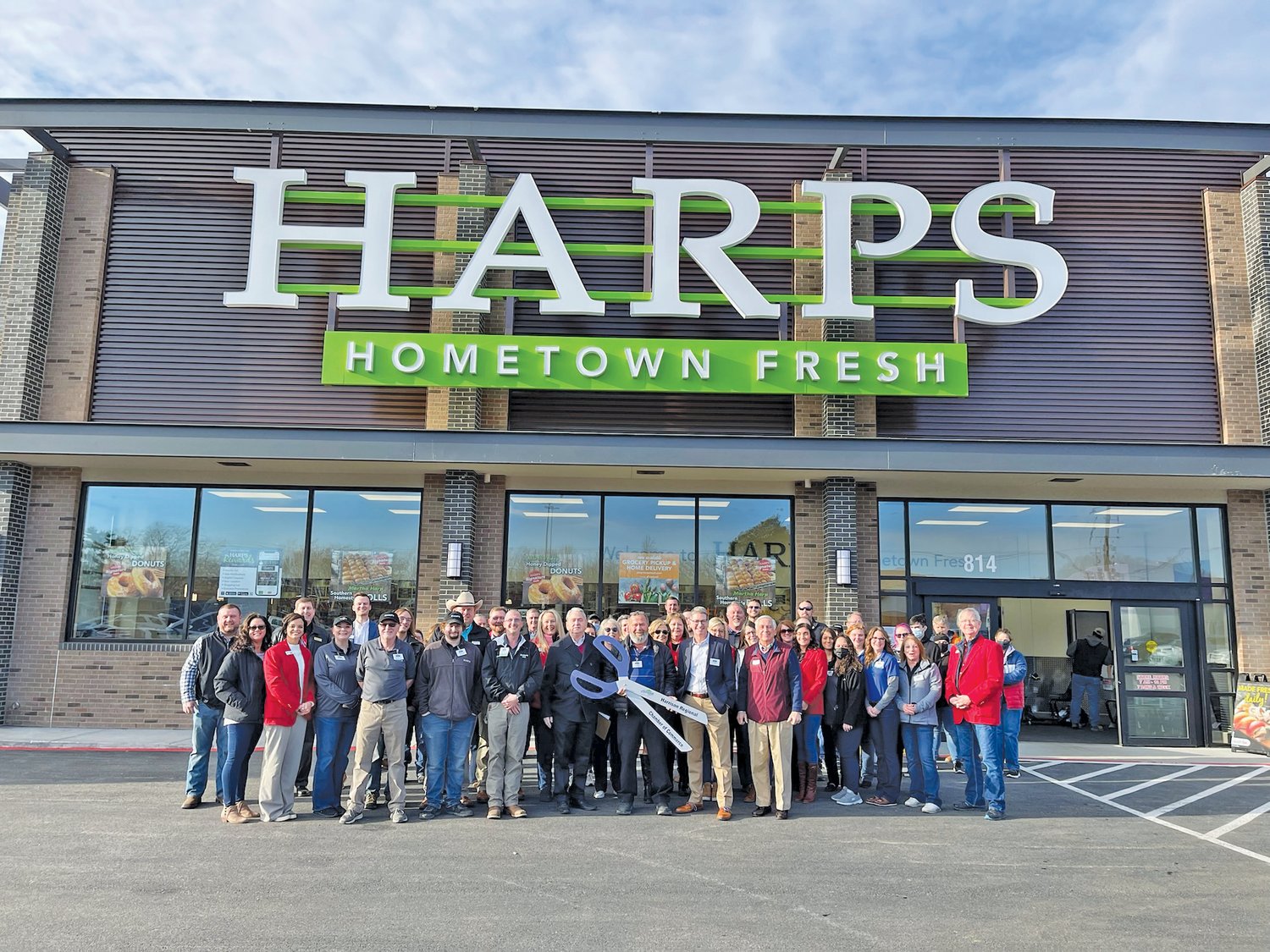 By DONNA BRAYMER [email protected]
Harps Food Store hosted a ribbon cutting with the Harrison Regional Chamber of Commerce (HRCC) on Wednesday, January 26 at 9 a.m. After the opening remarks and festivities, customers and guests immediately started shopping and enjoying the new store.
Harps Food Store has over 37,000 square feet of retail space including a bakery/deli, as well as fresh produce and a full-service meat and seafood counter.
Customers can pick up an aisle guide or download the Harps app to make shopping easier. Sarah Thacker, head office advertising manager, said they would be offering pickup and delivery in a few weeks, but felt customers would want to come in and see all the products the new store has on offer. right now.
Some of the foods available include fresh fried chicken, fresh sushi, honey dipped donuts, roast chicken, homemade rolls and country cinnamon apple pies are some of the items available.
J. Max Van Hoose, president of Harps Food says it's actually a 10-year long process. "Once we secured the property, it was a tough project – right in the middle of COVID. I know our construction crews and erection crews are thrilled to be at the finish line. But in reality, we are on the starting line as we open today.
The store management team consists of Jim Severn, Store Manager; Taylor Hamby, grocery store manager; Kenny Wyas, Meat Manager; Dustin Horn, product manager; Crystal Sisco, bakery/delicatessen manager; Cheyenne Jones, GMD Manager; and Rhonda Spann, pharmacy manager.
"This groundbreaking and inauguration ceremony is a thank you to our team, our store employees, our suppliers and everyone who made this possible," said Van Hoose. "We are grateful to Harrison and our future customers who will hopefully come here and see a better product. We have a full service bakery/deli, full service sushi, meat and seafood. Go back and see the live lobsters. We also have a full service pharmacy with drive-thru. On behalf of Harps and our owner employees, we are very pleased to be here today.
Chief Constable Chris Graddy, representing the HRCC Board, said: "I wanted to tell J. Max, Jim and the entire Harps team how excited we are. Welcome Harrison.
Harrison Mayor Jerry Jackson said, "Welcome. I think this is going to be a good example of rather than moving business, we're going to expand our market area. That's the great thing about it. That's how small town Arkansas stays that way and always seems to be a bigger economy with the likes of Harps and Hobby Lobby. In the past, Branson and the Missouri border was like a huge vacuum machine, sucking Harrison people in there. Now let's transform this machine with Hobby Lobby and Harps. We bring people here and we are very proud of it! Our economy is growing. Last year, for 2021, we grew by 14%. We will continue to grow and it is thanks to people like you. I know it took you 50 years to come back here, but we appreciate you did.
"You have heard from officials and community leaders. We are all delighted to have you here. Welcome to Harrison and Boone County," said House President and CEO Bob Largent as he cut the ribbon.
The new store is located at 814 Hwy. 62/65 North to Ozark Crossing. Hours are 7 a.m. to 10 p.m. daily. The phone number is 741-2104.