Sopapilla Food Cart Serves Freshly Fried Delights | Company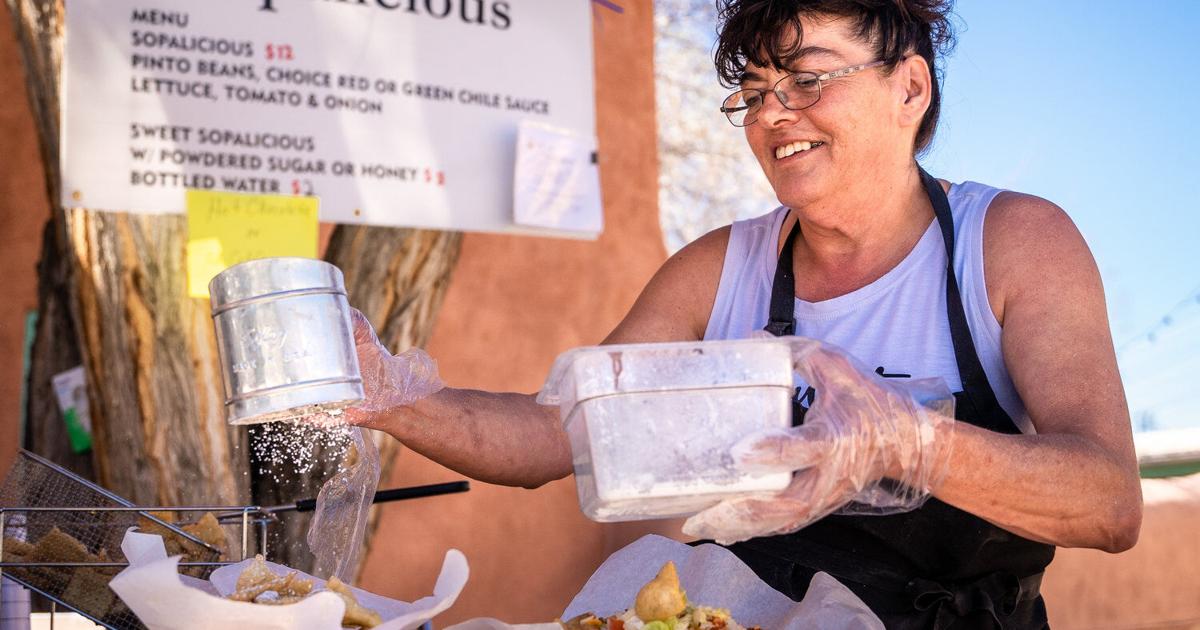 Bent Street has always been a bustling and vibrant part of central Taos, with plenty of options for food, clothing, accessories, and gifts. With the recent addition of the Sopalicious food cart, the area is starting to bring back some of the vibe that began to wane over the past two years due to the pandemic.
Sopalicious serves freshly fried crispy sopapilla "chips" or sopapilla "nachos," owner Rayne Medina explained. Right now she is serving two kinds of sopapillas – sweet and savory. The "sopalicious" is topped with pinto beans, red and green chili, and sour cream, while the "sweet sopalicious" comes with powdered sugar and a side of honey. Both types are made from Medina's artisan batter, which she cuts on the spot and grills to perfection in a fryer built into the cart.
The idea for the meal and cart came about when Medina and her family were eating nachos. Her granddaughter had just had braces and wanted to participate in the family snack, but she was worried about how the hard chips might affect her teeth.
"So I said, 'You know what, let me make you some little sopapillas that you can eat like nachos. My granddaughter said, 'Grandmother, they are sopa-licious!' and that's how we came up with the name," Medina said.
"I love cooking. I've always loved cooking since I was young," Medina said. "I used to cook dinner before my grandma got home from work. It was my job to start dinner. And I would make fresh tortillas every day. I've been doing this since I was in school. CM1."
Medina grew up with her grandparents in Valverde Street, near the city center. She remembers going to Fiestas de Taos and her grandmother telling her not to spend money on food. "It's because she always tried to make better food than Fiestas, and she did. My passion may have come from watching her," Medina said.
Rayne met her husband Wayne Medina at Taos High School. The two married right after graduating in 1985. Rayne ended up working for Taos Municipal Schools before the couple moved to Albuquerque for the next 10 years. But they were brought back to Taos and Rayne ended up in the Taos Municipal Schools. After retiring in 2016, she maintained a position as a Medicaid Specialist for Anansi Charter School and Taos Charter School.
Medina said she always had hungry mouths to feed, as she and her husband fostered around 70 children over 13 years and eventually adopted two. Now one of his sons is helping him with the Sopalicious cart. Medina said he could possibly direct it.
Before leading the cart, the Medinas had a small catering business, which she and her husband started after seeing the catering bill for their daughter's graduation party. Realizing that there were still more such family celebrations to come, Wayne Medina suggested an alternative. "He said 'Let's save some money and invest in tables and chairs and do our own thing.' That's kind of how it started," Medina explained.
During the pandemic, Medina said she thought about opening a food cart. Then she came across one. She was driving in El Prado when she spotted the cart along the road, with a man standing beside it. "I wasn't sure if he was selling something or if the cart was for sale," she said. "So just out of curiosity, I turned around, and when I got there, the cart was for sale for $100."
She said she couldn't pass up a good deal, so she hitched the cart to her car and drove it home – even though one of the cart's tires was nearly flat. Medina said the cart surprised her husband, but he helped outfit her with all the equipment needed to make and fry sopapillas.
Medina said the first thing she needed to do was find a place to settle down. After speaking with her friend Maya Cabot Chacon, who owns several properties in the area, she was granted permission to move to their current location on Bent Street. "You need to secure the location before you even apply for your permit because you need to have your lease and all the information regarding the location," Medina said.
After that, it was time to wait. She said the authorization process took a while, but she was patient. "I knew everyone was busy and I knew everyone was trying to follow COVID guidelines, so I didn't try to bother them too much," she said.
As soon as the permit was issued, she was on the streets the next day. "I was ready to go," she said.
Currently, the cart is open from 11:30 a.m. to 4:30 p.m. Wednesday through Sunday, but she has considered staying open later to serve the sweet sopapillas to diners exiting nearby Lambert's on Bent Street.
Going forward, she hopes to open additional carts if opportunities arise. She said she discussed with other business owners the idea of ​​a food court as more food carts began to appear in Taos.
Medina has already been hired to host an employee party, a side of the business she hopes to continue to grow. With the help of her husband, she said they would be able to create additional carts for other locations.
She hopes the expansion of their business will create opportunities for young people. "Not many people know how to make dough, and it's not difficult at all. You don't need a dough machine to make dough like this. I do it with my hands," she said. "I mean, if we have little [Sopalicious] places like that, I think would give this younger generation a chance to learn how to do it.
For now, Medina hopes the early positive feedback she received will continue to pour in and fuel her dreams of expanding the business.
"If we set our goals and just work to achieve them, it comes true. Just treat people well and share what you have and it all comes back — and it does," she said.