St. James opens new youth-run food cart | Business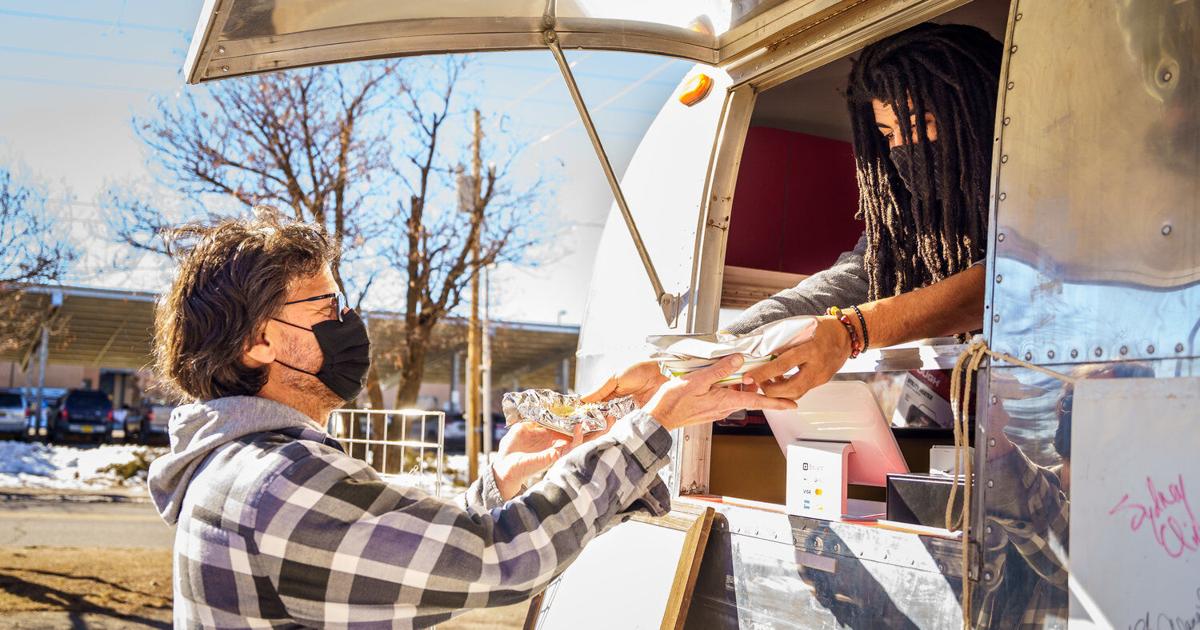 If you've recently walked Cruz Alta Road in Taos, you may have noticed the recent addition of a converted Airstream trailer right across from the Kit Carson Electric Co-op. Like several other recent trailers that have popped up across Taos, Airflow is a food truck. However, food service is just one of the many facets of Common Grounds: A Taos Teen Co-op and Cafe.
The food truck — part of St. James Episcopal's youth outreach program and the efforts of deacon and youth pastor Jill Cline — is a way for teens and young adults who need stability, a clean social environment or a part-time job to access a place where they can feel part of a safe, non-judgmental community.
Serving green chile burritos and pulled pork tacos, Common Grounds is getting off to a slow start, open Mondays and Tuesdays from 8 a.m. to 2 p.m., but its staff hopes to start gearing up for more business as the name and reputation spread.
Although Cline and the young adults running the cart are excited to officially sell food out of the draft, it wasn't part of the original plan. The goal was, and always has been, to create a safe place for Taos' young adult population (those ages 14-24) to congregate away from unwanted judgment from parents or peers and find an accepting community.
When the first EQ (emotional intelligence) meeting was held between St. James, Taos High School and Taos Academy in 2017, the topic of safe and fun after school activities was discussed. "Other than that, some of the kids in those two schools were saying, 'You know, there's not much to do for young people in the community. We need a safe place to hang out," Jill Cline said.
It was then that the idea of ​​extending the youth group project to food service was first mooted. Cline said she was looking to create a safe place for young people to come, regardless of their circumstances. After the Common Grounds group formed in 2017, conversations began about a way to create space for young people to work, play, socialize and generally hang out in a safe environment, and the group was officially formed.
After doing some community outreach, Jill Cline and her daughter Sydney Cline (among several others) struck a deal with Kit Carson Electric Cooperative General Manager Luis Reyes to lease the building located directly across from KCEC's head office (123 Cruz Alta Road) for only $1 per year. The building was previously owned by Dr Villarreal and the Taos Clinic For Children & Youth before it moved to Weimer Road.
The group's goal has always been to serve some kind of food from the given building. However, due to general societal hiccups, they were forced to improvise.
As labor and material costs continued to rise, so did the price of renovating the new building. Although Cline said he raised about $103,000 to help renovate it, he is still about $25,000 short.
That's when the idea of ​​a food truck was born. With both COVID and the idea of ​​a cafe in mind, the Common Grounds group decided to shift gears, focusing on a way to raise additional funds to renovate the building. "In order to pay for this and have high-paying jobs and leadership opportunities for teens, we run the food truck," Cline said.
Create a different environment for young people
Quickly, a small group of dedicated young people stepped in. The cart has been in action since selling Philly cheesesteaks at their first event – ​​Michael Hearne's Big Barn Dance – in early September 2021.
Since then, approximately 14 young people (aged 14 to 24) have participated in the deployment of the new cart. However, their goals are set higher than food. Many see food as a small part of the overall Common Grounds goal.
Originally, Cline said he created the group with several other adults and young people concerned about the mental health of their peers. After a wave of youth suicides in 2015 and 2016, the discussion has shifted to creating a healthy environment for teens and young adults to foster positive mental development.
After their first EQ meeting, it was clear that an option for those who needed community support was needed. Many young people involved in the new food truck said they were delighted to see a new place for safe gatherings.
"Growing up in Taos, for a lot of people, is really tough," said 18-year-old Bakhane Chandler, who was working his first official shift at the food cart on Monday (January 10). "I was really isolated from people because I'm not very talkative…[but] everyone here is very welcoming and supportive. It's nice to find a place where I felt welcome."
For Chandler, Common Grounds offered exactly the environment he was looking for.
"Either you are on the streets or you are practically absent. It's a bit sad," added worker Rou Maillis, 16. "Personally, I don't think Taos is a great place for young people because there's just nothing there… There's a school, there's a Walmart, there's cafes and it's just about everything. I think it's really going to help spread the word about all of this," Maillis said of the Common Grounds expansion.
Ocean Cameron, 21, another longtime Common Grounds member, said he got involved through several friends, including Sydney Cline, and found it a social outlet positive.
"It's a constant battle trying to entertain yourself as a young adult here," he said. "When you're hanging out, people are going to end up showing up with drugs, so it's just a bit difficult to put yourself in a safe environment where you're not under pressure."
Haley Tafoya, 21, was involved in the initial planning for Common Grounds. She said she was delighted to see the operation finally start to take off and thanked the group for how it had helped her. "It definitely changed my life… without Common Grounds, I certainly wouldn't have had much exposure to this type of community."
Ultimately, the goal is to create a 24/7 youth outreach center with many more options for mentally healthy activities. Although the building is in slight disrepair, Cline said she had big ambitions for the operation.
While waiting to raise the additional funds to complete the renovation, Cline said they are focusing on the business they hope to bring to the building. This includes a music room, TV and video game room, complimentary food pantry, private therapy rooms, handicapped showers and bathrooms, concession area, and cafe area, among others.
Once opened, Common Ground aims to become a safe haven for teenagers looking for a positive social experience. Young people between the ages of 14 and 24 and accompanying adults will be allowed inside the premises, and Cline said food will continue to be sold off the airstream for the general public.
As she prepares for a new phase of St. James's youth outreach program, Cline hopes to create as many positive opportunities as possible for those involved. For now, the food truck fulfills several purposes; providing employment opportunities, raising additional funds and drawing attention to the fact that young people need a place to go in Taos.
For more information, visit taoscommongrounds.orgor mail a check to St. James Episcopal, 208 Camino de Santiago, Taos, 87571 with Common Grounds in the memo, or call 575-770-1327.