WMCC partners with specialty food store for training | Local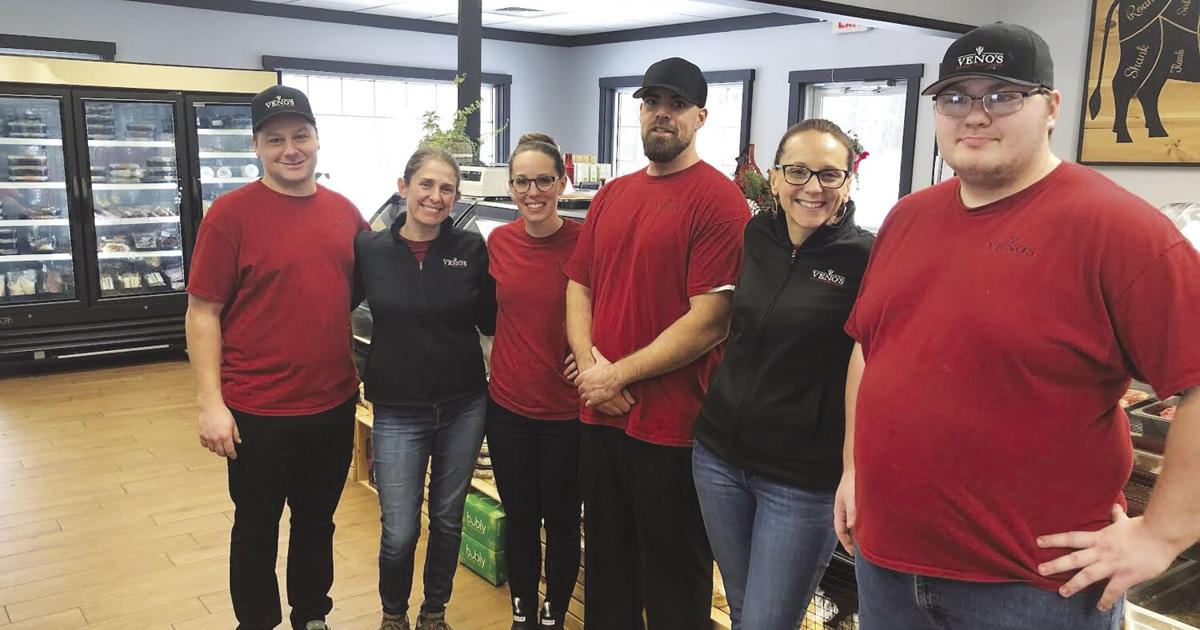 CONWAY – White Mountains Community College's Workforce Development Office recently partnered with Veno's Specialty Foods and Meats of Conway to train nine of that company's employees in organizational effectiveness and customer service. .
The four training sessions covered service improvement, management and leadership fundamentals, and contributed to a discussion on strategic goals. They concluded on November 29 and
"It's been a great experience," said Mount Washington Valley native Kendra Veno, who opened her specialty food and meat store with her husband Jason Veno four years ago and is a graduate of the Mt. Culinary Learning Balsams.
After culinary school, Chef Veno worked at the Ritz Carlton in Cleveland for three years, then was a member of the opening team for Classic's restaurant at the Intercontinental Hotel also in Cleveland.
She directed the culinary program at Mount Washington Valley Career Technical Center for three years.
Her husband Jason is a regional representative for Amoskeag Beverages of Bow. They have two children.
Veno said she felt it was important to develop ways to improve the company's training process for her team of 10 employees (which grows to 14 over the summer).
"As we've grown, my role has evolved," Kendra said. "I started doing meat cutting and cooking and it was necessary to train our team. I tell them that every meal we sell I see that person enjoying our food at the table with his family – he So it's about how do I make it clear that we're selling more than food, we're selling the experience.
The first workshop focused on "The big picture: context and environment". The second worked on basic communication skills. The third was devoted to interpersonal skills and the fourth to continuous improvement (building trust, exceeding expectations and developing an analytical mind, etc.).
Kendra first met Tamara Roberge, Workforce Development and Community Education Coordinator at White Mountains Community College in Berlin, with satellite campuses in North Conway and Littleton.
Roberge and Veno had discussed the program after meeting at a public event a few years ago, and Veno followed suit this year, thinking the time was right as the business grew.
"We work with a lot of companies here in the northern part of the state," Roberge said. "We often hear that employers are having difficulty recruiting new employees and that they want to make their current employees managers and leaders of the company. Through this program, employers embrace a training and mentorship environment to grow and promote their employees. »
Roberge paired Kendra with Colebrook instructor Fred King, a former business management veteran who teaches small business management at New Hampshire Technical Institute in Concord.
Roberge also advised Veno to apply for a 50% refund through the New Hampshire Bureau of Employment Security's WorkInvestNH program.
This reduced the cost from $300 per person to $150 per person.
According to the NH Office of Employment Security website (nhes.nh.gov/services), the WorkInvestNH program is open to businesses that pay quarterly taxes to the NH Unemployment Trust Fund.
"The program was transferred to the New Hampshire Office of Employment Security in 2020 from the former Department of Resources and Economic Development when DRED was spun off in 2019, and for a time it was under the Department of State Business and Economic Affairs before being brought to our office in 2020," said Richard Lavers, Deputy Commissioner of the State Office of Employment Security.
He said that in 2020 and 2021, a total of 117 employers took advantage of the scheme, 40% of which employed less than 50 employees.
"WorkInvestNH is a valuable program because we want to encourage more employers to invest in their employees, and it's a great way to provide better training at a lower cost," Lavers explained.
He said his office encourages employers to work with WMCC and other community colleges whenever possible on employee training programs.
"When employers come, we encourage them to have a conversation with a local community college because it can help them reduce the cost of training, but that's up to the employer," Lavers said.
In conjunction with Roberge and King, Veno's Specialty Foods and Meats sessions were held on a flexible basis that began last spring and were interspersed in the fall at the White Mountains Community's North Conway satellite campus. College.
Veno's closed its store in Conway for all four three-hour sessions.
Kendra said the training exercises will help Veno's as it continues to grow, and added that she would "definitely recommend" it to other companies looking to hone their mission and ensure their employees are on board.
"How to best serve our customers is our focus, so it's all about training our team to know how to read those customers, know their needs, and drive them away knowing they've purchased a valuable product," said Kendra.
"We feel completely embraced by the community…I'm so lucky with my staff – I say my manager Brittany Burke is my 'sister by choice' and I couldn't ask for a better partner other than my husband," said she noted.
Speaking of his wife, Kendra said, "I needed a partner who would understand how much I love cooking. If he hadn't agreed with me on what I wanted to do here with this case, Veno's case wouldn't exist. And I wouldn't be the person I am without having her in my corner.
She said she and Burke will update their internal training manual based on what they developed during the WMCC sessions with King.
Ben McPherson, Andy Manning, Jessica Whitelaw, Noah Brown, Meghan McDermott, Linda "Lulu" Pippin and Chance Bosquet appeared on the show along with Kendra and Burke.
Located at 715 White Mountain Highway in Conway, Veno's is open 10 a.m. to 6 p.m. Monday through Saturday and 10 a.m. to 5 p.m. Sunday. For more information, call (603) 662-0615 or visit venosnh.com.
To learn more about White Mountains Community College's Business Counseling Program, go to ccsnh.edu or call (603) 342-3062.